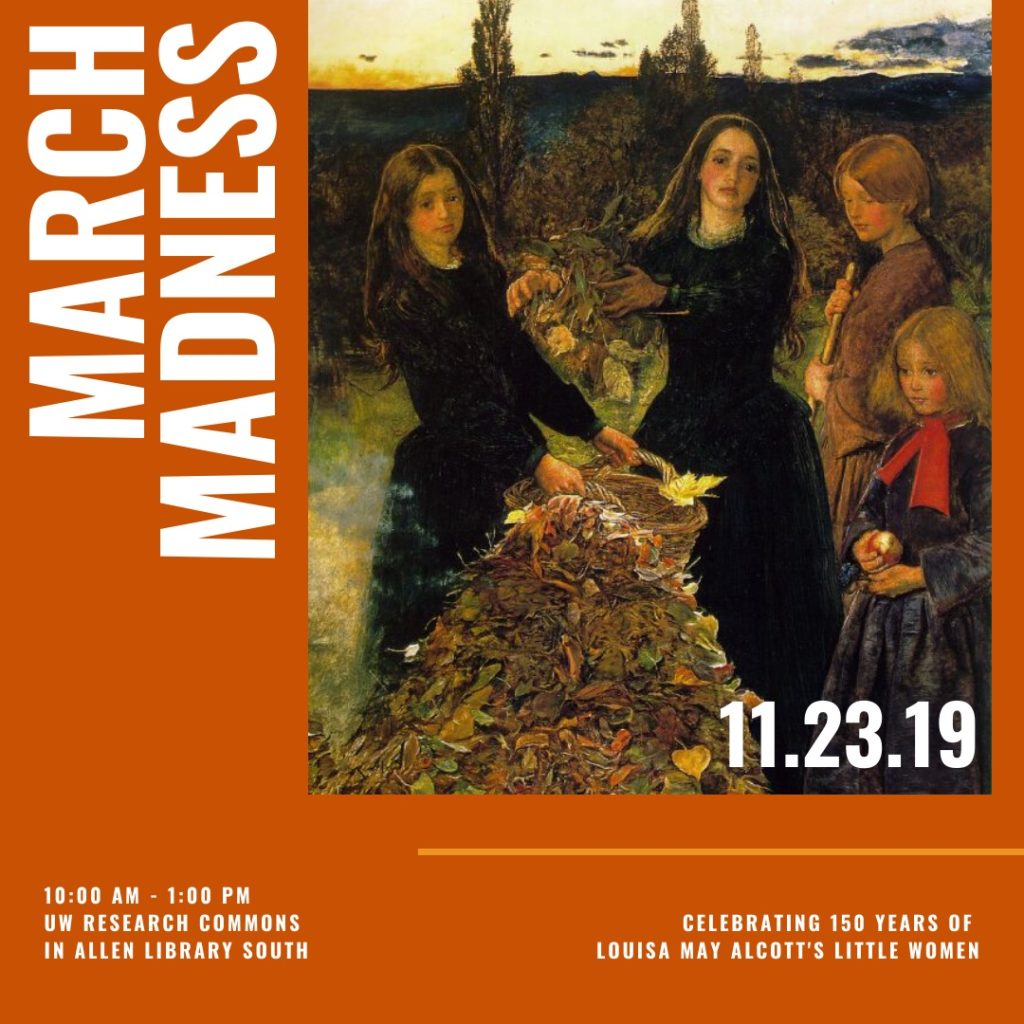 March Madness is a celebration of the 150th anniversary of Louisa May Alcott's beloved novel Little Women. Coordinated by UW graduate students and hosted by the Eighteenth/Nineteenth Century Graduate Research Cluster, this event will attract people from around the Seattle area to hear lightning talks, visit booths, taste nineteenth-century food, see Civil-War-era clothing and household items, try their hand at art and newspaper-making, listen to nineteenth-century music, and even look at a rare first edition of Little Women and other contemporary books from UW Libraries Special Collections. Saturday, November 23 is the day to celebrate the big history of Little Women!
WHERE: Research Commons in Allen Library South at the University of Washington, Seattle, WA
WHEN: Saturday, November 23 10:00am – 1:00pm
SCHEDULE
Saturday, Nov. 23
9:30 Doors open
10:00 Program begins! Enjoy food and interactive booths in-between the lightning talks.
10:15-10:45 Lightning Talks I
Re-enactors from the Washington Civil War Association, "Clothing in the 1860s"
Katie Tuft, "Top 5 Ways to Make History in the 19th Century: Artfully Selected Advice from the Lives of Mary Seton Watts & Louisa May Alcott"
Claire Barwise, "Transcendental Wild Oats: Alcott's Subversive Satire"
10:45 Break
11:00-11:30 Lightning Talks II
Laura Griffith, "From May to March: Louisa May Alcott's Forgotten Source for Little Women"
Sophie Chen, "Little Women in China: Translation and Studies"
Eric Morel, "Alcott's Novel as a Sustainable Read"
11:30 Break
12:00 Sandra Kroupa (Rare Books Curator, UW Libraries), "Too Fond of Books: An Introduction to American Literature in UW Special Collections"

1:00 Visit to Special Collections with Sandra Kroupa to interact with early Alcott editions and other rarities from UW's collection of nineteenth-century women writers
If you have questions, contact Laura Griffith at lgriff2 at uw dot edu.